Putting Tips
June 1, 2022 4:28 pm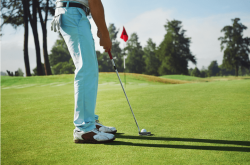 I have never been a fan of putting lessons. Most 4-year-olds I see on our Jurassic Encounter adventure golf course can putt very well. We don't want to over analyse this area of the game. However, getting the ball to go into the hole is not easy. Here are a few practice tips that may help. Note, these are just putting tips. I'm not providing advice to improve technique.
Line and speed is all that matters
There are 2 things that you need to focus on with putting: the line of the putt and the speed of the putt.
Judging the line of a putt is something that you improve by experience. My tip here is to try to miss on the high side of the hole. If there is a slope from right to left, aim further up the hill than you initially think is necessary. If the ball goes past on the high side of the hole, then it always had a chance of falling into the hole. If you missed on the low side of the hole, you never had chance. The ball could not possibly start rolling up the hill and drop in the cup.
Often people get the wrong impression of what they should expect from their putting. Even the best players in the world, the PGA Tour players, would expect to miss a 15-foot putt 80% of the time. Yes, that is right, they will only hole a 15-foot putt around 20% or less of the time. That suggests you needn't be too hard on yourself when you are missing those putts.
Speed matters the most!
The distance control on a putt is the hardest but also most important part to get right. Get the direction of the putt wrong and you will never be more than 10 feet out. But if you get the speed wrong you could be miles off. Here's a good practice drill. Go to a putting green, find a flat area of that green and hit putts to the edge of the green, not the hole. That way you are only concerning yourself with rolling the ball so it stops as close to the edge of the green as you can. If possible, try to hit the longest putts that the surface of the green will allow. A putt of 40 feet will teach you much more about the feel required to improve your putting, than a 4-foot putt.
By Jon Woodroffe: Master Professional, World of Golf London
Categorised in: Tip of the month, World of Golf London