A Hat-trick in the US?
September 23, 2021 8:02 am
World of Golf London Master Professional Jon Woodroffe, sets out his thoughts on the 2021 Ryder Cup, starting tomorrow.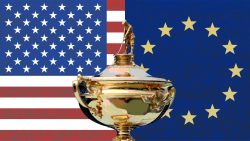 In the last couple of weeks we have had the Emma Radakanu fairy tale and we have also seen an amazing finish to the Solheim Cup. So what are the odds on another miracle in America this weekend, as the Ryder Cup 2021 gets underway in Wisconsin at Whistling Straits Golf Club?
I would dearly love to say yes, it will happen. But the best I can do is yes it could happen. The strength in the USA team and the set up of the golf course at nearly 8,000 yards – ideal for the longer hitting Americans – just leads me to fear, this is one championship upset too far.
We have the postman ready to deliver in Ian Poulter. We have the world number 1 in Jon Rahm. And yes, we have the renowned European team spirit that will be as strong as ever. With Koepka and De Chambeau not on each other's Christmas card lists, there is always a chance. But I think this time, without many Europeans in the crowd, the USA team will be too strong.
I just really hope it is a close finish, one that keeps as many sports fans as possible, watching till late into the night with the 6 hour time difference. Let's hope we have enough blue on the board on the back 9 on Sunday to believe it could be done.  Even if eventually the ends the way I presume, it is still a great spectacle and sporting event that deserves a spectacular finish. After all we have had to wait an extra year for it.
Good luck Europe, but let's have an exciting weekend of sport and sportsmanship.
Categorised in: Golf Events, World of Golf London