When does a Putt Break?
July 1, 2014 7:01 pm
By Jon Woodroffe
One of the most common mistakes when reading a green is golfers don't allow enough break on their putts.
The main reason why this happens is golfers aim at the 'Apex of the Putt'
The 'Apex of the Putt' is a point where the ball seems to start breaking as the ball starts to lose its speed.
What we haven't taken into account is that if the slope is consistently sloping the same along the whole putt, then the slope will start to move the ball as soon as you hit it, not when it loses it's power. What will happen when the balls starts losing its power it will break more because gravity will have more control on the ball, so this is why we focus on this point.
Below is a series of pictures showing an 8 foot putt across a 4% slope.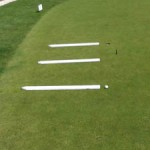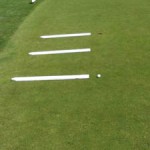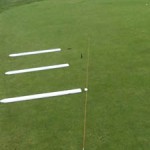 (This putt will break 12″ if the ball has a speed which will make the ball go 1 foot past the hole)
The slope is consistently sloping from right to left illustrated by the 3 planks of wood.
The second picture shows The apex of the putt with the black peg, allowing 6″ of break! but because the slope will start moving the ball to the left as soon as I hit it then the ball will miss on the low side (left) of the hole.
The true aim is aprox double the point of the apex, 12″ of break, illustrated by the orange string.
What will happen to the ball is it will start turning as soon as the ball is struck, turning to the apex and then continuing on to the hole.
By learning what is the 'True Aim' of the putt and not the apex then you will increase the chance of holing more putts.
If you would like to learn how to read putts quickly and efficiently, then please book an hour's lesson with David Young at World of Golf Sidcup on 020 8309 0181
Categorised in: Tip of the month