Private: New Teaching Professional coming to World of Golf New Malden
June 17, 2014 11:51 pm
We are delighted to announce the addition to our coaching team of a young professional by the name of James Sullivan, here is a brief description of his golfing career so far and his view on coaching golf, he will be joining World of Golf New Malden from July 1st.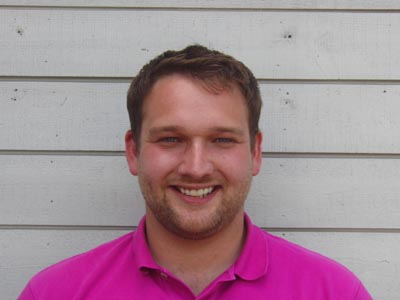 James is a local lad who actually learned the game with golf lessons here at World of Golf New Malden on the junior programme although he first picked up a club aged 3. Every Saturday morning was spent with dad queuing up to play the 9 hole pitch and putt at Morden Park until aged 10 when he became one of the youngest members that Surbiton Golf Club allows.
By the age of 15 he had reduced his handicap to 1 through dedicated practice and a genuine love of the game. His golfing ability was recognised early on and at age 13 he was representing Surrey and went on to play for the county at all levels. He also became a member of Wisley Golf Club during this period and benefited greatly from being able to practice alongside some of Europe's top players like Eduardo and Francesco Molinari and Surrey's own Paul Casey.
From here he was recommended in 2010 for a golf scholarship at West Texas College in the U.S. but sadly that was curtailed due to a career threatening injury, so on his return to the U.K James went to work in the City as a Bond Broker. Although he enjoyed the experience, his love for the game of golf was too strong, so he enrolled onto the PGA training course. He passed his level 2 coaching certificate and has now joined us at World of Golf New Malden to help drive the largest learn to play golf programme in the world and share his enthusiasm for golf with as many people as he can.
James' view on his coaching is "Helping others achieve their goals is a challenge that excites me. Seeing a golfer develop over a period of time is something I find very rewarding. I have been fortunate enough to play with a lot of exceptional golfers and been taught by some of the best coaches, picking up lots information along the way which I hope to pass on to others.
I don't believe in coaching a method. I believe each golfer has their own unique attributes and it is a case of identifying their strengths and weaknesses, using that as a foundation and building a game around their strengths.
I have had a huge amount of enjoyment over the years from playing golf and I want as many people as possible to experience the joys of golf. Making lessons fun and enjoyable but also informative and constructive is the objective".
James is available for golf lessons from Tuesday to Saturday and you book either on line or with the reception team on 020 8949 9200 or e mail james@worldofgolf.co.uk
Categorised in: Golf instructors, Golf lessons