Meet Vicky Dowey – student turned kids golf teacher
September 11, 2018 7:21 am
The World of Golf London summer golf camps for kids were another cracking success, with excellent numbers getting their first taste of the great game. One of those who made it all possible was Vicky Dowey, who herself was introduced to the game through our free beginners programme, just a few years ago. We caught up with our student turned teacher to find out what inspired her to take up the game and why teaching children is so rewarding.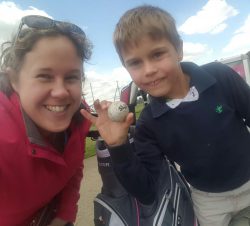 When did you first pick up a golf club?
I first picked up a golf club at New Malden's World of Golf center whilst watching my son Elliott (then aged 4) take part in the summer camp. His instructor Duncan handed me my first ever 7 iron and encouraged me to have a go whilst I waited for my son to finish his session- needless to say…I was hooked from the first minute.
What inspired you to visit World of Golf London for the first time?
My son is a keen sportsman; we had been watching golf on the television and he was keen to give it a try. We saw an advert for the summer camp and seized the opportunity for him to try golf for free.
What do you think is the key to getting kids interested in taking up golf?
Golf is often seen as an elite sport, for the wealthy, the country club members and for the silent children. My personal belief is that if golf is fun, exciting and engaging then the rules, terminology and form will follow. Fun before form is my personal mantra! Oh and they love prizes!
What's the number one tip you passed on to kids attending the recent summer camps at World of Golf London?
With a number of children returning over the summer camp we developed a set up routine. We created a little rhyme of 'Feet, hands, head and a tick tock motion' to encourage them to chip. We were not worrying about where the ball ended, but about creating the pre-requisite skills that would be building blocks to progression in golf. Some of the children developed this further and enjoyed discovering that their full swing created letters and tuned that into another rhyme of 'Love, Your, Life' rhyme for their L to L swing.
What's your favourite golf course?
I think my favourite golf course is Torvean Golf course in Inverness, Scotland. It's such a beautiful golf course looking out into the Glen and the Caledonian Canal. The greens are small and Torvean offers a different style of golfing challenge.
If you could have dinner with any golfer who would that be and why?
Don't make me pick! Lee Westwood or Rory Mcilory? Lee has so much Ryder cup experience but has never won a major….so would have a wealth of stories but Rory's work with the Rory foundation is fascinating as well as the golfing side of being! They can both come for dinner, i'll pay for the pudding!
If you could play golf anywhere in the world, where would you go?
There are so many but I think at the top of my wish list is Coeur d'Alene Resort Golf Course in Idaho U.S.A. Hole 14 is a floating hole with a green that moves daily and can only be accessed by boat! The views look spectacular too!
Categorised in: Golf instructors, Golf lessons