Do you have the correct driver?
July 1, 2013 7:37 pm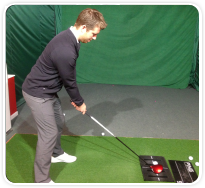 I don't get as much time to play nowadays as I did when I was a junior member of Pedham Place Golf Club, but still my favourite weapon is my driver. Currently I have a Cleveland 8.5 degree with an X shaft. The head is 400cc which is a little smaller than the maximum 460cc monsters available these days, but I find this gives me more feel off the clubhead. The loft is very strong and I believe is about as low as you can get, but my swing is such that I have a very shallow angle of attack on my drives and hit the ball very much on the up and this gives me too high a launch angle so the 8.5 degree loft compensates for that and gives me a lower flight and more distance. The X shaft flex is really a little too stiff for my swing speed, I actually lose about 15 yards because of it, but I find that is offset by a considerable gain in control and accuracy.
I love my driver, even though the components of it are designed to make the game a little harder to play, it is certainly not a game improvement club and I would certainly not recommend most of my lesson clients use one like it. The sort of driver that would be more appropriate would be a 460cc head that will forgive most mis hits that your average golfer will throw at it. As for the loft that would suit you, look at your ball flight, if you have what we call a "Rainbow" flight to your drives, then go for a driver with a lower loft, however if your ball flight is the "Airplane" flight you would be better suited to a higher lofted club, this will get you the optimum launch angle for your game. Finally the shaft flex, my advice is use the most flexible shaft you dare without losing control.
I am currently toying with the idea of investing in a new big stick, and the Nike Covert is the one I have my eye on, but for most golfers I would suggest the best driver for game improvement would be the Callaway Razr, and the best value for money driver is the Wilson Deep Red.
To find out what driver will help you improve your tee shots, either book a golf lesson with me Chris Bonner, here at World of Golf Sidcup, or book a fitting session at any of the American Golf superstores at the World of Golf ranges.
Categorised in: Tip of the month